Product Description
Combines the highest quality whey protein peptides and isolate with a scientifically tested weight loss ingredient.
For more than two decades, we've fueled those with the strength to not just play the game, but to change it — and Nitro-Tech® has led the way. Now, Nitro-Tech® Ripped expands on this tradition by delivering high-quality whey protein peptides and isolate, plus sought-after weight loss support.
How do I take this?
Mix 1 scoop in 8 oz. of cold water or milk.
When should I take this?
Take twice daily, 30 to 60 minutes before your 2 largest meals. For best results, use with diet and exercise for 60 days.
Why is my bottle half full?
Our powders are filled by weight, not volume. Through the manufacturing process, some functional space is necessary, and some settling can occur after filling. Rest assured the exact number of servings found on the label is what's in the tub!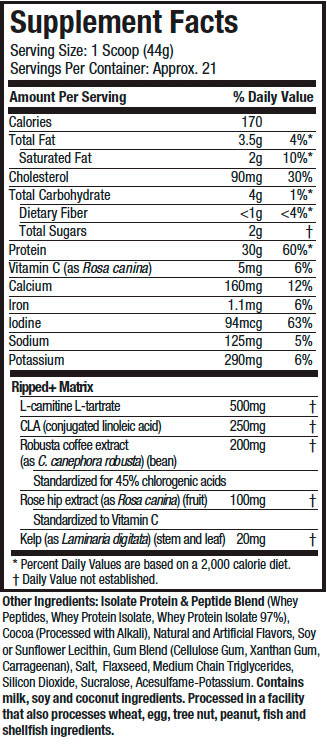 30G PROTEIN ISOLATE & PEPTIDES
The essential macronutrient for building muscle mass. Fast-acting protein helps you build and keep the gains you've worked so hard for.
500MG L-CARNITINE L-TARTRATE
Delivering L-carnitine, an amino acid metabolite that occurs naturally in the body and has been associated with energy metabolism.
A naturally occurring fatty acid – the types of healthy fats that you want in your nutrition regimen. Often taken as a dietary supplement.
200MG C. CANEPHORA ROBUSTA
The key driver in meeting your goals. Shown in two different studies to support healthy weight loss.*
Statements made on this website have not been evaluated by the U.S. Food and Drug Administration. These products are not intended to diagnose, treat, cure or prevent any disease. Information provided by this website or this company is not a substitute for individual medical advice.