Product Description
Med+Kit
 
Health, Wellness & Immune Support
"The grind to be the best often comes with a hefty price tag. Your victories come with consequences, but we have your back. Protect your health, increase your longevity, and optimize your organ function. This is your insurance policy on a longer life."

PROTECTS AGAINST FREE RADICALS
Each serving comes with a massive 3 grams of Omega 3's, 600mg of NAC, an extremely potent anti-oxidant that truly wages war in your goal for optimal health. Plus, 400mg curcumin, 750mg milk thistle, 100mg ubiquinol, and a very impressive vitamin complex making it the standout formula in this category.

REJUVINATES ORGAN HEALTH
Med+Kit is a perfect formulation of immune boosting and organ rejuvenating super supplements. And a must have in the battle for improving your chances of living a long and healthy life.

IMPROVES PERFORMACE
That means when you are taking Med+Kit, you are ingesting optimal amounts to actually produce benefits. The trouble with many products on the market that resemble a wellness formula is that the amount provided barely scratches the surface on improving your health or performance.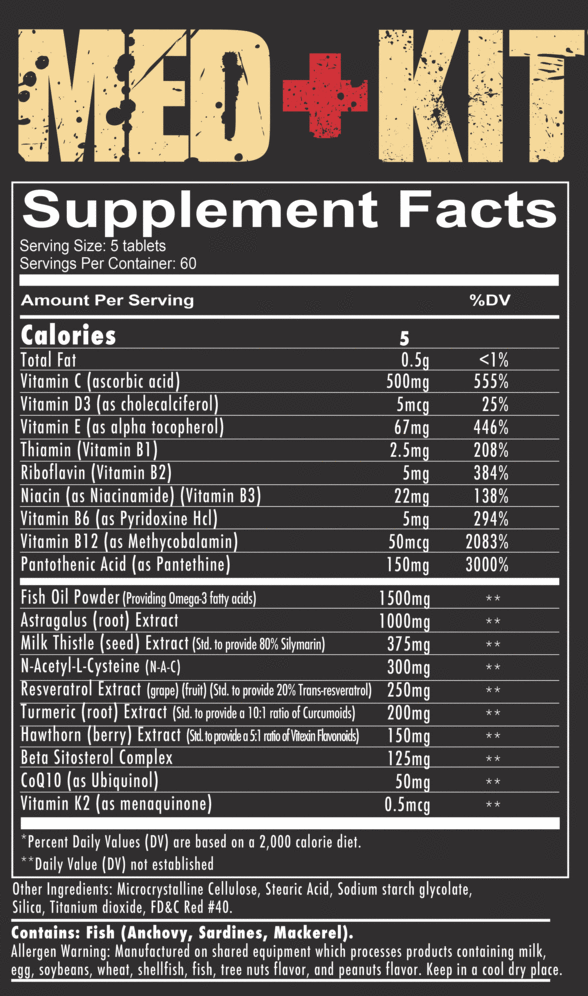 Statements made on this website have not been evaluated by the U.S. Food and Drug Administration. These products are not intended to diagnose, treat, cure or prevent any disease. Information provided by this website or this company is not a substitute for individual medical advice.